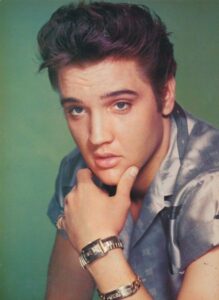 1950's Teen Idols
This blog post will be dedicated to the 1950's teen idols. I wasn't alive in the 1950's, but I sell pinups of 1950's teen idols. Therefore, I am qualified to blog about it.  That's right.
I don't know how far back teen idols go. Did they have teen idols before there was TV? Were there radio teen idols? Were there singing teen idols from like the 1800's? I'm thinking no, but I don't know for sure. I do know that teen idols have exploded ever since they were publicized in the teen magazines.
16 Magazine
16 Magazine began in the late 50's. I think that was the first teeny bopper type magazine. (BTW, 16 magazine is no more. That makes me sad. The last issue was sometime in the early 2000's.) Elvis Presley was on the cover of the first 16 magazine published in May 1957. Was he the first teen idol? Probably not, but that's who I'm going to start with.
Elvis Presley
Elvis was a hunky dude. I loved his cheekbones. I was at band camp when he died. True story. I wasn't a fan but knew who he was when I heard the news that he had died. He was not so hunky by that time. One of my trumpet teachers played trumpet for Elvis. He said whenever there was a break, Elvis would be off by himself doing karate kicks and stuff. I guess Elvis was into karate?
Ricky Nelson
I remember the song Garden Party by Ricky Nelson in the 70's. He first became a teen idol in the 50's but I really hadn't heard of him until his twin sons, Gunnar and Matthew, became popular in the late 80's. I mean, I remember some old dude dying in a plane crash in 1985. I knew he was a teen idol from the 50's, but it was the Nelson boys who really made me know of their dad.
NOTE: Ricky Nelson was only 45 at the time of his death.  That seems old when you're a young person.  TAM TRIVIA:  My brother also died in a plane crash when he was 45.
Fabian
I only know who Fabian is because he was on Laverne & Shirley. I LOVE that show! Fabian sang "Turn Me Loose" to the girls in his hotel room. Penny Marshall was awesome in that scene. She always makes me laugh.
Bobby Vee
Bobby Vee got an interesting and morbid start to his career. Three of the four headline acts on February 3, 1959 were killed in a plane crash. Bobby Vee and his band were given the job of filling in for Buddy Holly on that tragic day. That day, of course, is known as The Day the Music Died.
Douche Bag
My ex-husband played trumpet on Paul Anka's band. I've seen his show at least 25 times. Anka is not a nice man. He was always sweet to me, but I didn't like how he treated other people. I was at his 60th birthday party. (He's now 102.) He was wearing leather pants at the party. Hey, Grandpa! That's just gross. Can you picture your dad wearing leather pants?
There were other 1950's Teen Idols including Annette Funicello, Frankie Avalon, Bobby Rydell, Paul Petersen, and Bobby Darin. I think Elvis was probably the big one though from that era. What do you think? Check back in a few days for my 1960's Teen Idols.